Hello everyone it's Rolik and it's time to begin the first contest ever made!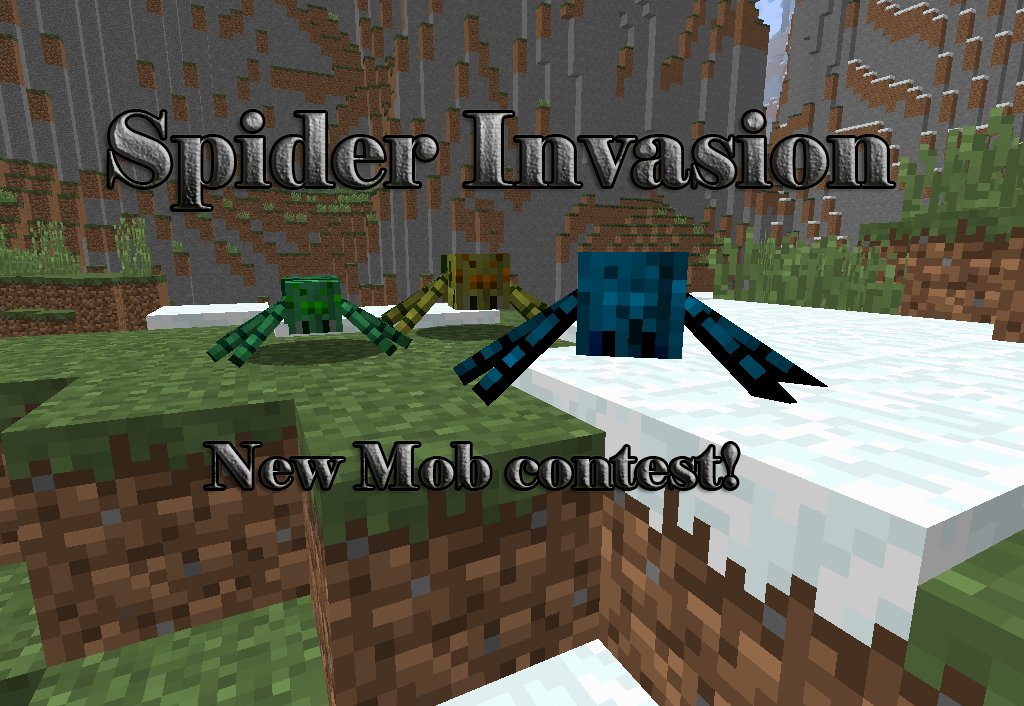 About the contest:
Spider invasion is a contest, where you can make any spider you wan't , that means your suggestion has a chance to appear in game if you win, also you will be added to supporter list and even near your spider your name will appear.
Rules:
1.You can make any spider you wan't , except for giant or retextured spiders!
2.Maximum Health cap for spiders will be 128hp and damage cap will be 15, armor cap is 10.
3.Every player can add up to 2 participants , that means up to 2 spiders.
4.Draw texture by your self, that means no textures from internet sources, textures can be made with paint.
5.Don't simply recolor spiders, and reuse their texture, make something original!
6.Spiders can have up to 2 abillities , without counting attributes, or hidden skills.
How to participate?
1.Be sure to create account on the forum and just simply login(Optional).
1b.You can register participant in planetminecraft, facebook page or just down below!

2.Register a participant on this post or just comment on planetminecraft post or just anywhere where this post will be shared!
Name:
Short Description:
Health:
Damage:
Special Attribute/Skill:
Armor:
Drop:
Spawn Biome:
p.s also include a texture as attachment and if you will use custom model, then leave a comment down below!
3.(Optional)Leave a image or a video, how spider would look like and how it would act.
4.Share this with your friends, as it's will be really helpfull!
How winners will be selected?
1.In total 4 spiders will be added, 2 will be selected by judges and other 2 will be selected by community!
2.Judges will rate by these criterias:
-Abillities & Stats.
-Texture & Design.
-Description & Originality.
3.Community will select winners , 1 week later then the judges , poll will begin, and you will be able to vote for your favorite!
4.If spider has unoriginal texture, or it will be simply downloaded from the internet, participant will get disqualified!
5.You will be able to register a participant within these two weeks, and in 16 days, judging will begin!
What Do winners get?
1.Winner will become part of the mod, that means he will be added to supporter list.
2.Winner's name will be added near the spider, and he will recieve thank you message!
3.Winner will be credited, in all posts of the mod, in curse , planetminecraft and etc!
When there will be next contest?
I'm not sure about it , but next time prize will be better for sure, maybe even a minecraft gift code or something like that, but maybe somewhere near christmas!